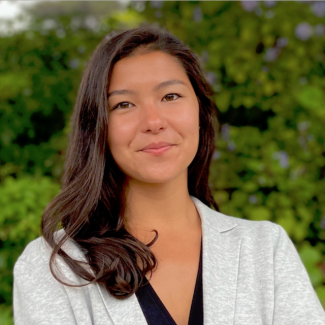 Graduate Student
she/her/hers
Advisor
Emily Jacobs
Research Area
Cognition, Perception, and Cognitive Neuroscience
Biography
Elle Murata received her B.A from Middlebury College with a major in Neuroscience and a minor in Japanese, where she worked with Dr. Michael Dash and earned High Honors for her thesis on brain metabolism and long-term potentiation. She worked in healthcare consulting before returning to research as a Research Assistant with Dr. Meryl LeBoff in
Endocrinology at Brigham and Women's Hospital/ Harvard Medical School. Elle is driven by the critical need for women's presence in science. She volunteers with programs that advocate for underrepresented women in STEM and conducts research that advances women's health factors in neuroscience. Her current research focuses on how ovarian hormones impact the brain and cognition. Beyond research, Elle loves running, hiking, yoga, reading, cooking, and doughnuts.
Research
The Jacobs Lab investigates the effects of endogenous and exogenous hormones on the structural and functional architecture of the brain, including projects on reproductive aging, the reproductive cycle, and oral contraceptives. My research focus is understanding how ovarian hormone suppression, via a gonadotropin releasing hormone antagonist, impacts the brain and cognition.  
[Sex steroid hormones, neuroendocrine aging, effects of ovarian hormone suppression on brain architecture & cognitive function]