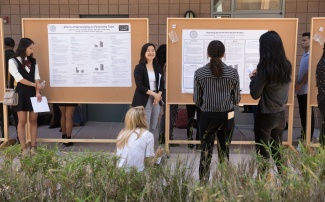 Undergraduate Overview
The Department of Psychological & Brain Sciences (PBS) at UCSB offers the B.S. in Psychological & Brain Sciences and the B.S. in Biopsychology. Admission to both majors is contingent upon completion of Pre-Major Requirements.
All majors in the PBS department are designed to provide students with an appreciation of the scientific study of behavior. Psychology is an extremely broad discipline, ranging from the study of the behavior of simple organisms to the behavior of humans and groups of humans in complex interactions.
Our focus at UCSB is on experimental research psychology. The program offers excellent preparation for graduate study in any area of the discipline, or for careers ranging from law enforcement to education to sales and marketing. The program does not provide training for counseling or clinical psychology, although many of our courses are good preparation for graduate training in these areas.
Here you'll find all the information you need regarding departmental policies and procedures to be successful in earning a PBS degree at UCSB.
The Department of Psychological & Brain Sciences is committed to fostering the success of a diverse community of STEM-oriented students. We welcome applications from all interested students, regardless of race, ethnicity, gender, age, religion, language, abilities/disabilities, sexual orientation, gender identity, socioeconomic status, or geographic region. Several of our faculty study topics related to diversity. UCSB was officially designated as a Hispanic-Serving Institute in 2015, and it received 4.5/5 stars on Gender Identity/Expression and LGBTQ Policy Inclusion from Campus Pride Index
Walk In Advising
Enrollment Issues

Research and Opportunities

General Major Inquiry 

Change of Major 

Grad School Inquiries

Passtime Deadlines 

Major Progress Check 

Course Questions

Academic Concerns

Course Evaluations for Major Credit

Petitions/Forms (Advisor Signature Needed)
Walk In Advising (continued)
Advising Hours
Front Desk WALK-INs:
Mon- Fri
9:00 - 11:45 am, 1:00 - 3:45 pm
Location: Psych East 1814
*Appts are not accepted for same day.