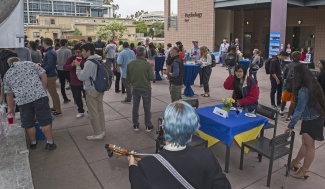 PBS Alumni Career Panel
ANNUAL ENGAGE Event Providing Access to PBS Alumni


Friday April 22nd, 2022

 

At ENGAGE 2022, sponsored by the PBS Alumni Council, there were three concurrent panels, each hosted by a member of the PBS faculty. Alumni talked about career paths, gave advice on how to get started after graduation, and took questions from the audience. Registration was free.
Students who attended shared that this was an event that was very meaningful saying "I got great advice based on graduate school and what they look for when hiring for jobs. I got to hear real stories of real people and how psychology reaches so many people."
To participate or learn more about ENGAGE and the PBS Alumni Council, contact
<pbsalumni@psych.ucsb.edu>
Graduate Training Required: Clinical Paths in Psychology
Panelists
Joe Issacson, School Psychologist Goleta Union School District
Kaishauna Kern (Johnson), Counselor for Chino Valley Unified School District; Adjunct Instructor for the University of LaVerne
Michael Levine, Professor Kenyon College
Chassidie Liu, Clinical Research Coordinator at University of Minnesota Medical School
Elise Stenberg MSW, Social Work in LA County
Careers in Health Psychology and Biopsychology: Graduate School and Industry
Panelists
Alyssa Villa, Masters Candidate in Epidemiology at UCLA
Brett Ouimette, Senior Associate Regulatory Affairs at Amgen
Dairine Pearson, MSW, LCSW, Bereavement Coordinator and Counselor
Making a Difference: Psychology Career Paths
Panelists
Deborah Bettencourt, VP Customer Experience and Corporate Administration at Sientra
Juan Gonzalez, Lab Manager for Cultural Psychology Laboratory at UCSB
Chris McFerron, Student Affairs Manager for PBS Dept at UCSB
Emily Belote, Housing Assignments Coordinator at Chapman University
Lexi Provost, Customer Success Coordinator at Technology Services Industry Association
Suzanne Perkin, Associate Dean of Student Life