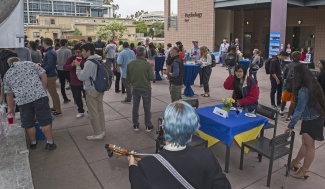 PBS Alumni Career Panel
ANNUAL ENGAGE Event Providing Access to PBS Alumni
Not sure what to do after graduation? Need some ideas on what you can do with your PBS degree?
ENGAGE 2023 PROVIDING ACCESS to PBS ALUMNI
Friday April 21st various events from 11:30am-5:30pm
Spring 2023 ENGAGE EVENTS
Keynote Speaker Dr. John Ruiz, Clinical Health Psychologist 11:30am-1pm in Sage (PSY 1312)
Talk & Reception: Latinx Health Paradoxes, Resilience, and the Pursuit of Health Equity
Alumni lunch with Allison White, Ph.D. student in Neuroscience 1-2:15pm 
Link to Flyer and Lunch RSVP
If you are thinking about graduate school in Neuroscience this is the lunch for you to prioritize in your schedule. Allison is going to give advice, and help you plan your graduate path. 
Alumni Panel Discussions from 3:30-4:30pm in Psychology & Psychology East
Link to Alumni Panel Discussions RSVP
There are three concurrent panels (see below for details), please register for one of the panels and join us for a conversation with alumni. They will talk about career paths, give advice on how to get started, and take questions from the audience. Registration is free and required. 
Alumni Speed Mentoring 4:30-5:15pm in the Psychology Courtyard
Link to Alumni Speed Mentoring RSVP
Alumni will be set up at small tables to talk with you about their work experiences and help you plan your next steps. 
Alumni, Faculty, & Student Mixer 4:30-5:30pm in the Psychology Courtyard
Link to Alumni Student Mixer RVSP
All events are free thanks to the generous support of the PBS Alumni Council.
Students who have attended share that this was an event that was very meaningful saying "I got great advice based on graduate school and what they look for when hiring for jobs. I got to hear real stories of real people and how psychology reaches so many people."
Alumni Panels
Graduate Training Required: Clinical Paths in Psychology
Panelists
Joe Issacson

, (he/him/his), School Psychologist Goleta Union School District

Kaishauna Kern (Johnson)

, (she/her), Counselor for Chino Valley Unified School District; Adjunct Instructor for the University of LaVerne

Eric Nelson

, (he/him), Westmont College CAPS Director, Therapist Private Practice

Miranda Tran

, (she/her/hers), Masters in Family Therapy candidate at Azusa Pacific University
Careers in Health Psychology and Biopsychology: Graduate School and Industry
Panelists
John Ruiz

, (he/him/his/el), Clinical Health Psychologist

Alyssa Villa

, (she/her/hers), Masters Candidate in Epidemiology at UCLA

Allison White

, (she/her), Ph.D. Candidate in Neuroscience at West Virginia University

Juan Gonzalez

, (he/him), Lab Manager for Cultural Psychology Laboratory at UCSB
Making a Difference: Psychology Career Paths
Panelists:
Deborah Bettencourt

, (she/hers),

Human Resources, Corporate Administration & Customer Experience Executive

Kevin Hall,

(he/him/his), Real Estate Broker

Amy Meyer,

(she/her/hers), Chief People Officer, App Folio

Suzanne Perkin

, (she/her/hers), Associate Dean of Student Life at UCSB
Alumni in Speed Mentoring
Deborah Bettencourt

, (she/hers), Enjoying volunteering and giving back. Former VP, Human Resources & Corporate Administration

Whitney Bruice

, (she/her), UCSB and private practice

Joe Isaacson

, (he/him/his), Goleta Union School District

Eric Nelson

, (he/him), Westmont College CAPS Director / therapist in private practice

Juan Gonzalez

, (he/him), Lab Manager, UCSB Cultural Psych Lab

Carla Madruga

, Madruga Psychological Corporation/Adjunct Clinical Associate Professor of Psychiatry and the Behavioral Sciences, USC Keck School of Medicine

Alyssa Villa

, (she/her/hers), Student at UCLA

Allison White

, (she/her), West Virginia University

Kaishauna Kern

, (she/her), District Lead Counselor, Rialto Unified School District

Kevin Hall

, (he/him/his), Real Estate Broker

Cami Ferris-Wong

, (she), Endodontist

Miranda Tran

, (she/her/hers), Graduate Student at Azusa Pacific University

Suzanne Perkin

, (she/her/hers), Associate Dean for Student Life, UCSB

Amy Meyer

, (she/her/hers), Chief People Officer at AppFolio

Nathaniel Ilo

, (he/him/his), Admissions Counselor / UCSB Admissions