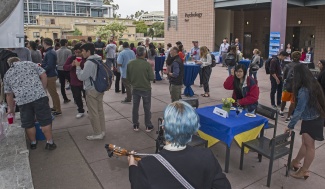 PBS Alumni Career Panel
Not sure what to do after graduation? Need some ideas on job hunting in this new environment?
The Department of Psychological & Brain Sciences (PBS) invites you to our third annual (first time virtual) Alumni-Student ENGAGE! ​(Engage, Network, Grow, Advance, Guide, Empower) on May 22nd, 2020.
The Webinar is free but you must be registered to attend. Please click this link to register.
ENGAGE 2020 Webinar Registration
ENGAGE: PBS features career-focused panel showcasing Psychology Alumni from 4-5:30pm on Friday May 22nd, 2020.
PBS Alumni Career Panel Participants
Deborah Bettencourt, Vice President of Customer Experience and Corporate Administration, Sientra
Joe Issacson, School Psychologist, Goleta Union School District
Kaishauna Johnson, Counselor, Chino Valley Unified School District
Amy Meyer, Chief People Officer, App Folio
Roger Upton, Data Collection Technician for Aquent at Google